Rogue Ranger - Sold

The Test Platform for the BOSS 3.0!

Here is the last picture...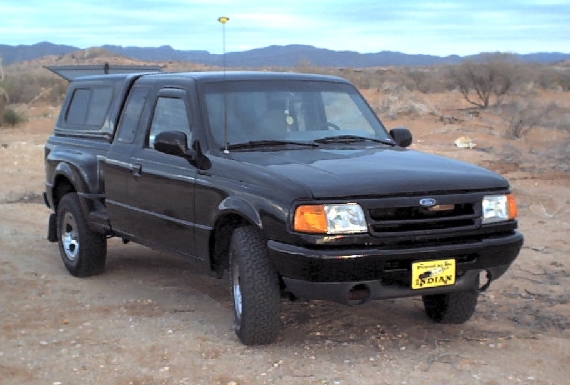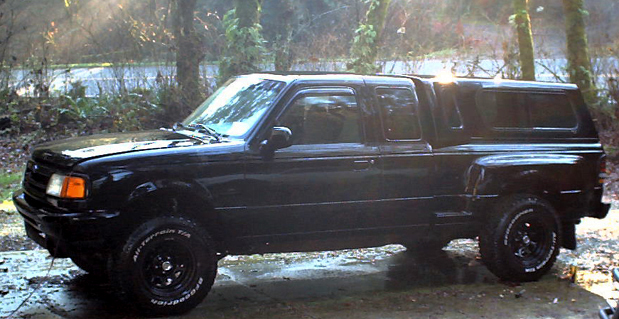 This was the "Test Mule". Our 1994 Ford Ranger Extended Cab Splash. Factory 3.0L, 5 sp, 7.5" diff w/ only power mirrors and A/C. With over 150,000 miles on the stock engine, it represents most all 3.0L's! Mods include:

In chronological order - Mouse over icons for specifics:

Flowmaster 50 Series Muffler
180° T-Stat
Tornado Air Management
FuelMaster "device"
IAT Mod, 5.6K Ohm resistor
Throttle Cable Mod (not needed)
Trans Plug Mod/Rebush shifter
TB WOT Mod (butterfly at 90° @ WOT)
Sky Jacker 2" front leveling coils
Rear 2" lift blocks
30x9.5 BFG All Terrain T/A's (80,000 miles!)
Rancho RSX Shocks
TPS Mod (Checked, Voltages good, mod not needed)
Port matched upper intake
MAF Mod
IAT Mod w/ 3 position switch (10K/OFF/5.6K)
1/4" LE Phenolic Spacer
Walker Hi-Flow Cats
Ported and Polished Lower Intake
Angus 1.72:1 Roller Rockers
Accel 300+ 8.8mm Wires, 300+ Ignition and matching Coil
ASP Power Pulley
Mr Alternator 200 Amp Alternator, powder coated Red.
Relocated IAT, removed resistor
Ram/Cold Air box (home-brew)
MSD 6A and TFI Harness
Split-fire plugs scrapped because the gap wouldn't keep.
Ford Factory Platinums, .060" Gap
Custom 2 core radiator from "Go/Dan"
"Black Magic" Series 150 Electric Fan w/ custom mounts (Same as "Ranger/Bronco II" Flex-a-lite)
DEI 1"x3' "Heat Shroud" (to limit AC loss through sweating).
EVANS Cooling NPG+, 7PSI cap, Full-Flow 195° T-Stat, and all new hoses
4.10 Gears w/ all new bearings, seals and synthetic lube (Smoked due to accident!! Now 3.73:1)
TA Performance 7.5 Differential Girdle cover with carrier cap studs


*Vehicle down for Accident repairs April '02*

CenterForce Dual Friction Clutch
All new clutch hydraulics from Ford
New Trans inputshaft, gaskets and "tweeked" internals to spec.
Rebuilt and Balanced driveshaft, new Spicer U-Joints and Center Bearing
New Transmission Mount
Synthetic MERCON ATF in Transmission
Performance Accessories 3" body lift (to clear the TKT "Frankencharger", See below)
Prothane Polyurethane Body Bushings
"Shackle Flip" Mod
Re-arched rear springs with an added full-length leaf (to recoup 2" lost in shackle flip)
Modified Ram/Cold Air system to increase air intake (Mesh in place of molding above bumper)
Replaced bed bolts (provided in lift kit) with Carrige bolts
20 LED light from J. C. Whitney added to rear of topper (Old 2 bulb light knocked my noggin one too many times).
Lightning Audio 4 Ga wire (1862 strand) from Alt. to the Fuse Block, and Battery (Factory is 8 Ga, 19 strand!)
Lightning Audio (Bulk Contract Piece) 150 Amp Circuit Breaker to replace the factory 12Ga Fuseable Link
Exide 2Ga 42" "Top Post" Battery Cable (Stock is 4Ga).
Exide 2Ga 49" "Switch to Starter" Ground Cable (Stock is 4Ga).
DEI 1"x3' "Heat Shroud" (to protect starter harness).
Rebuilt entire primary wiring harness (upgraded) and rewired main fuse box.
Perma-Cool 450HP External Oil Cooler mounted, needs to be plumbed with 1/2"-8AN hard lines.
Perma-Cool 185°f Oil T-Stat, mounted, needs hard plumbing with 1/2" tube.
TD performance single oil filter remote mount (Mobil 1 M301 filter), plumbed with 1/2 id hose.
DEI (Design Engineering Inc.) ¾"x3' "Heat Sheath" (to protect Oil hoses).
JBA Headers, Ceramic caoted (Black) from James Duff.
Eastwood "Satin Black" High Temp Coating, to cover the nickel plated "Y"-Pipe that really stuck out against the ceramic headers!
Herculiner bed liner kit and an extra quart on the rocker panels!
1/2" G-10 Plenum spacer mounted with custom STUDS
31x10.5 BFG All Terrain T/A KO's (Sweet!)
MSD-6BTM (MSD-6 and MSD-BTM sold on ebay to cover cost)
MSD TFI Blaster Coil
19lb Injectors
Unique Wheel 252 Street Lock Wheels
Eaton M62 (GM 3800) S/C w/ Cobra 65mm Throttle Body

*Vehicle down for repairs July '03*


(ventilated head gasket[s], sounds like a kazoo!)
Back up on 20 APR 04


Pro-M MAF cal'd for 24lb Injectors and the Supercharger
New Optima "Red Top" battery
4.0L SOHC MAF - much smoother idle
BamaChips 4 position SCT chip (Thanks Doug!)

*Vehicle down for Whipple supercharger upgrade and lowering (4/5) APR '05*


Back up Aug '05

CamCraft reground roller cam (280°/.464")
New water pump
New Timing Chain
Reburned SCT chip to handle the smaller pulley from BamaChips.com
30lb Injectors (matched)
MSD Wires (Custom built from MSD parts catalog)
Anti-Pump Up Lifters (High rev) from FRPP
Whipple Supercharger (modified 2002-2004 Ranger Kit)


Explinations:
Difficulty:

= Easy,





= a painful install, specititley tools, or very critical measurements required.

Outcome:

= Poor Fit/finish or No Improvement,

= Mild increase,

= big increase,

= Life Saver/Must do

Overall:

= Ecstatic,

= Very Happy,

= Happy,

= Not Happy,

= Just say no...


What else?
The BOSS 3.0 and The BOSS-Lite
---