% Response.Expires = 10 Response.Expiresabsolute = Now() - 1 Response.AddHeader "pragma","no-cache" Response.AddHeader "cache-control","private" Response.CacheControl = "no-cache" %>
Radius Arm Bracket Replacement


My "Radius Arm Brackets" were "customized" by the original owner.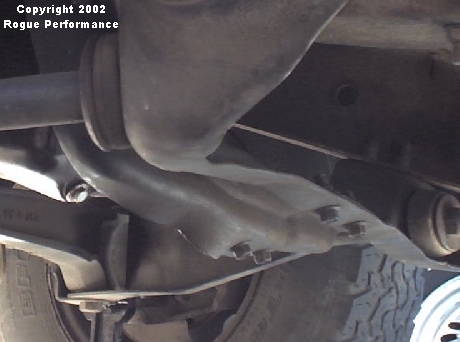 Yikes!


Because of this, the transmission had to be turned sideways to be removed. Since the first clutch job was done in a state-of-the-art garage with a high-lift/rotating trans jack, it wasn't a problem. Now that I'm working in my driveway, it bites! Because this would interfere with a "clean" install, I decided to replace them.

This requires the use of a few choice tools: (* mark the ones I used)
B.F.M. (Big-Friggin'-Mallet)*
27mm &frac12" Drive Socket (for the Radius Arm Nuts)*
15mm Open End Wrench (for the 4 frame bolts)*
15mm 3/8" Drive Socket (for the 4 crossmember bolts)*

After you cut/grind/drill the heads off of the rivets, use the "B.F.M." and Hardened Punch to drive the rivets through the frame.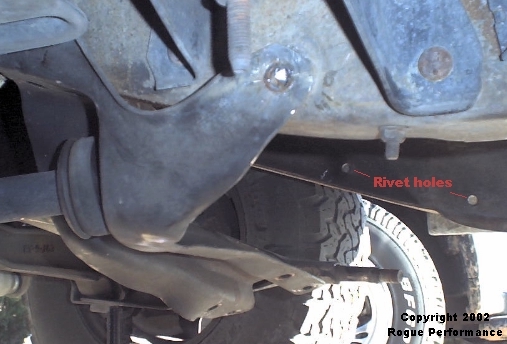 The install was simple:
-Loosen the fuel filter (as one of the nuts will be hiding just below it).
-Attach the arms together using the 4 factory nuts and bolts (loose, tightened at end).
-Install the Large curved washers and Large rubber bushings (with "Anti-Seize" on all friction points)
-Install the Radius Arm Brackets
-Install the Plastic spacer, small rubber bushings, and right hand heat shield (with "Anti-Seize" on all friction points).
-Finally, the flat washer and nut (with "Anti-Seize" on all friction points).
-Use a floor jack to lift at the bar portion of the Radius Arm, to get the bracket in position.
-Install bolts and tighten to specs.
-Repeat last 2 steps for other side.
-Tighten the center 4 bolts that tie the 2 arms together.

Parts List:
Ford Radius Arm Brackets (New $30 each) P/N: FOTZ-3B095-A and FOTZ-3B095-B
Bolts (to replace the rivets): 4 M10x1.50-25mm bolts, 8 matching washers, 4 "Ny-Lock" Nuts
Prothane polyurathane bushings or rubber replacements (listed below)
And replacement parts as needed (listed from front to rear!):
Large metal washer (curve facing aft) on Radius Arm: E0TA-3B186-AA
Large rubber bushing on Radius Arm: E8TA-3B203-AA
(Then Radius arm bracket)
Plastic retainer: F07A-3B244-AA
Smaller rubber bushing: E0TA-3B184-AA
(Right side only, unless you are running a true dual exhaust): Heatshield (No part number)
Then a large metal washer (flat) w/ no part numbers
Finally: &frac34-10 Nylon Lock Nut (or similar)
Make sure you have your alignment check afterwards!
It made a big enough difference that my alignment (Toe) was way out of specs.

Enjoy!

---
You are visitor number

Free counters provided by Andale.

This site and it's contents are protected by U.S. Copyright Law for unpublished works.
All articles and photos are the property of Rogue Performance (or as marked) and may only be used with written permission.
"BOSS 3.0©" and the "BOSS 3.0©" graphics may be used with written permission

(Texas Sales Tax Number available upon request)