Lower Emissions, More Power
and Better Mileage

Please re-read - the program has changed... for the better!



Everytime you turn off your engine, the water pump and, usually, the cooling fan stops. Water flow through your engine drops to zero and the intense heat from your cylinder heads begins to boil the fuel out of your injectors. Regardless of how "clean" your fuel is, or what grade you use, this boiled fuel becomes a waxy sludge in your injectors.

Most manufacturers recommend a fuel system cleaning every 50,000 miles, but cleaners and flushes don't get all of the nasties. Even if the cleaners loosen the particles, they can't get the chunks past the injector screens or the .005" clearance in the injector. The result: Low Flow, Poor Spray Patterns, Lost Mileage and Higher Emissions.

But, what can you do?

You have 3 choices:

A. Get your injectors rebuilt or blueprinted.

You have to pull your injectors, pack them up and mail them out to have this work done! A day of removing, 3 days there, 2 weeks at the shop, 3 days back and another day to install, your car can be down for 3 weeks or more!

B. Buy New injectors.

From where? Ford? ...the price: $88.58 EACH! But, they aren't a matched set. Each injector is +/-10%! Not much of a match.
O.K., how about a discount auto store? The price: $46.63 EACH! (lowest price in El Paso as of March '02) The set of injectors are still +/-10%! Again, no match. And, they aren't OEM parts!

C. Keep dumping an $8 bottle of cleaner in your tank every fill-up and hope it works.

As stated before, cleaners won't work. They may dissolve the waxy deposits, but most can not touch the carbon deposits. The ones that eat carbon can leave a powdery residue on your intake valves, further hurting performance. Even a "lickety-split" oil change place pressure cleaner can't do it right! $49.95 and the injectors aren't removed from the vehicle! Nor are they "reverse flushed", so all that dirt gets sprayed right back into your engine, nice!



Matched Sets for High Performance Injection!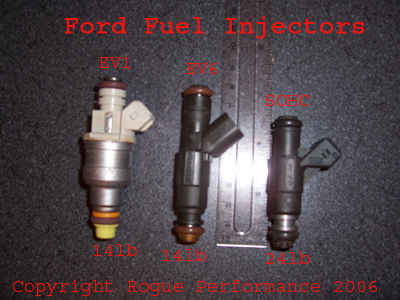 No Hassle, No down-time!



Or...
I can do the work and waiting for you! I mail you a complete set of injectors (Ford/OEM) that have been cleaned, rebuilt, flow tested to less than 3% total deviation. When available, I can offer <1% sets ("Pick-of-the-Litter"), these are true matched sets for an additional charge. These are perfect for High Performance Street and Off-Road Applications!

Best to date:
.12% 24lb for abused3.0 6/06
1.4% 24lb Explorer "Shorties" 11/06

Generally, the swap takes 2-4 hours, after that, you drop the old ones back in the box and, mail me your cores. I will get them ready for the next customer. The only way to do this is with many sets at a time. If there are no sets "available" under the descriptions, they are not ready to ship and may take 3-4 weeks before I have enough injectors to match. These tight numbers can only come from mass amounts of injectors to sort from. Without your cores, I have to sort through eBay or the boneyard to keep these coming!

Reduce, Reuse, Recylce, Help a Neighbor and, save the environment, Cool huh?

Each set of injectors is flowed wide open and pulsed, ultrasonically cleaned in a heated bath and the results are recordered before and after the rebuild. I also include a thorough instruction sheet.


---
Note: Add injectors to your cart and select quantity (4,6,8) at checkout.
$5 refunded for each useable injector core you return.

Normal turn around time for injectors in stock is 1 business day.
Normal turn around time for "cores" is 2-3 business days.

Terms: You are ordering a "service", not the parts. Once I have received your parment, my cores are sent in for matching (if not in stock), therefore, the "PayPal" terms and conditions do not apply to injectors or cores are not in stock. If you are not willing to wait for the 2-3 week turn around for a custom set, email me at: fred@rogueperformance.com BEFORE you buy.


---
| | | |
| --- | --- | --- |
| 14lb/hr Injectors, rebuilt, available in matched sets. | | 5 in stock - 0 cores. |
| 19lb/hr Injectors, rebuilt, available in matched sets. | | No cores in stock - email me! |
| 24lb/hr Injectors, rebuilt, available in matched sets. | | No cores in stock - email me! |
| FFV Injectors (Ford states 25.3lbs), Flex-Fuel (E85)/Gas. | | 2 in stock - No cores. |
---
EV2 (Pencil type, 1/2" shorter then EV6, Delphi Style)



Another Rogue Performance Exclusive!!
These are for the 1997 to 2002 Ford 4.0L SOHC Engine in all body styles!!

These feature a new, genuine Ford&copy "Fuel Injector Inlet Adapter".
Its ALWAYS best to replace these since they become brittle from the heat.



24lb/hr Bosch Design III Injectors, rebuilt, available in matched sets.
6 in stock, no cores.
One 1.5% set.
---
| | | |
| --- | --- | --- |
| 14lb/hr EV-6 Injectors, rebuilt, available in matched sets. | | 1 in stock - 6 cores. |
| 19lb/hr EV-6 Injectors, rebuilt, available in matched sets. | | No cores - email me!. |
| 24lb/hr EV-6 Injectors, rebuilt, available in matched sets. | | 2 in stock, no cores. |
---
Go to Rogue Performance!

This site and it's contents are protected by U.S. Copyright Law for unpublished works.
Unpublished anonymous and pseudonymous works, and works made for hire (corporate authorship) are
protected for 120 years from date of creation (FEB 6, 2001). All articles and photos are the
property of Rogue Group, LLC (or as marked) and may only be used with written permission.
The Ford? logo/name is property of the Ford Motor Company. Rogue Performance (Me)
is in no way affiliated with the Ford Motor Company, Bosch or Delphi.

My work is not Public Domain, and should NOT be taken from this site. (I have already found some of my work on 3 other sites).
All photo's and drawings are my creations unless stated otherwise. All links are with permission.
Want a copy of a picture, link or quote? Just ask! Please respect all copyright laws, I do! Thank you.


Site updated 5Dec2009


(WA UBI Number available upon request)